What's Box Storage?
SafeStorage provides corrugated boxes in different sizes to store good or files. You can use them to pack clothes, shoes, decorations, books, albums, mementos, sweaters, jackets, shawls, toys, blankets, quilts, utensils, and so on.
Mostly people prefer to look out for storage spaces to keep their important household and business files or goods. But they always worry about the safety and reliability of the storage provider if the company is genuine enough to keep their belongings safe and secure. When you are looking for storage space in Bangalore, you can consider Safe Storage as the best option to keep your belongings.
We provide affordable storage options to the clients. Clients belongings remain 100% secure with us as we have CCTV cameras, which operates 24/7. No one can enter our storage area with having the desired access because we have the complete area with the biometric access denial system. Whenever the client needs to check or retrieve their belongings, they can come and get it without any hassle. There are different sizes of storage boxes available with us for the clients to keep their belongings. You can even keep the entities such as clothes, utensils, etc. in the storage boxes provided by us. With so many convenient and secure features, you must be curious to use our storage services and keep yourself completely stress-free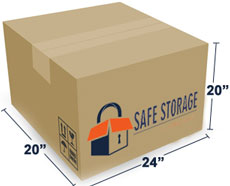 Large Box
Volume: 4.5 cubic feet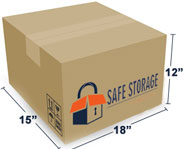 Small Box
Volume: 1.65 cubic feet
So whether you're relocating, renovating or you just need some storage space to store your personal belongings or household items, look to Safe Storage™ to make sure that your possessions are safe, secure and out of the way.